1
« on: September 29, 2012, 10:59:50 PM »
Well I'm cutting it exceptionally fine but I thought I should get cracking with my entry for the comp. I found that green stuff is fairly irritating to work with and ended up shelfing my effort for a while, leaving her looking like...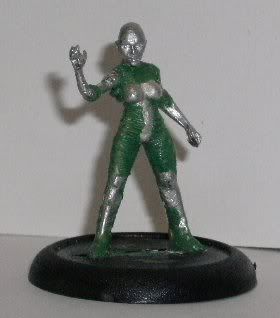 ...for quite some time. Essentially just the texture that's beneath her armour which I wanted to look less neat than Ieuan's t give it a more organic look... also I just went at it with a knife to make the texture.
The photos are terrible unfortunately so it's kind of hard to see what's going on with all that green stuff. As of yesterday I made some more progress and she now looks like:
I still have to do the armour on her legs, chest, back and shoulders as well as her weapon which I only have a rough idea of what I'm going to do. I might do a helmet as well, I had planned to but I'm not sure I can pull off my sketches.